A.nnotate is an online annotation, collaboration and indexing system for documents and images, supporting PDF and MS Office formats. Instead of emailing different versions of a document back and forth you can now all comment on a single read-only copy online. Unlike online word processors, the document is displayed in high quality with fonts and layout just like the printed version. It is easy to use and runs in all common web browsers, with no software or plugins to install.
Hosted solutions are available for individuals and workgroups. For enterprise users the full system is available for local installation. Special discounts apply for educational use. A.nnotate technology can also be used to enhance existing document and content management systems with high quality online document viewing, annotation and collaboration facilities.
The free and subscription services are used by thousands of small businesses, researchers, students, designers and web developers. Enterprise customers include leading organizations in consultancy, finance, healthcare, insurance, universities, pharmaceuticals, publishing and the public sector.
A.nnotate lets you share and store notes on documents. When you upload a document A.nnotate displays it in the browser and lets you add notes and tags to specific words, phrases and regions of the page.
You can share documents so that other people can add notes and replies. All notes are added to your personal document index.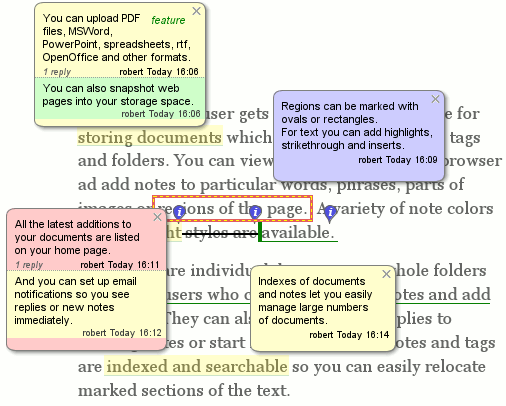 Features
Private storage for documents and notes.
On-line annotation of the documents you upload.
Shared documents and folders so you can invite others to view and add notes to your documents.
Indexes of all your documents and notes with searching and sorting by tag, author, note text etc.
News and notifications about changes to shared folders and documents.
---
---
---